#1: World-class Program
Several years in a row we managed to achieve high-quality program while keeping it affordable to the people in the Czech Republic. This year you can be looking forward to awesome speakers, for example, Samantha Laing, Pete Behrens, Heidi Helfand, Stephen Parry, and Marsha Shenk. Register soon, the conference is always sold out.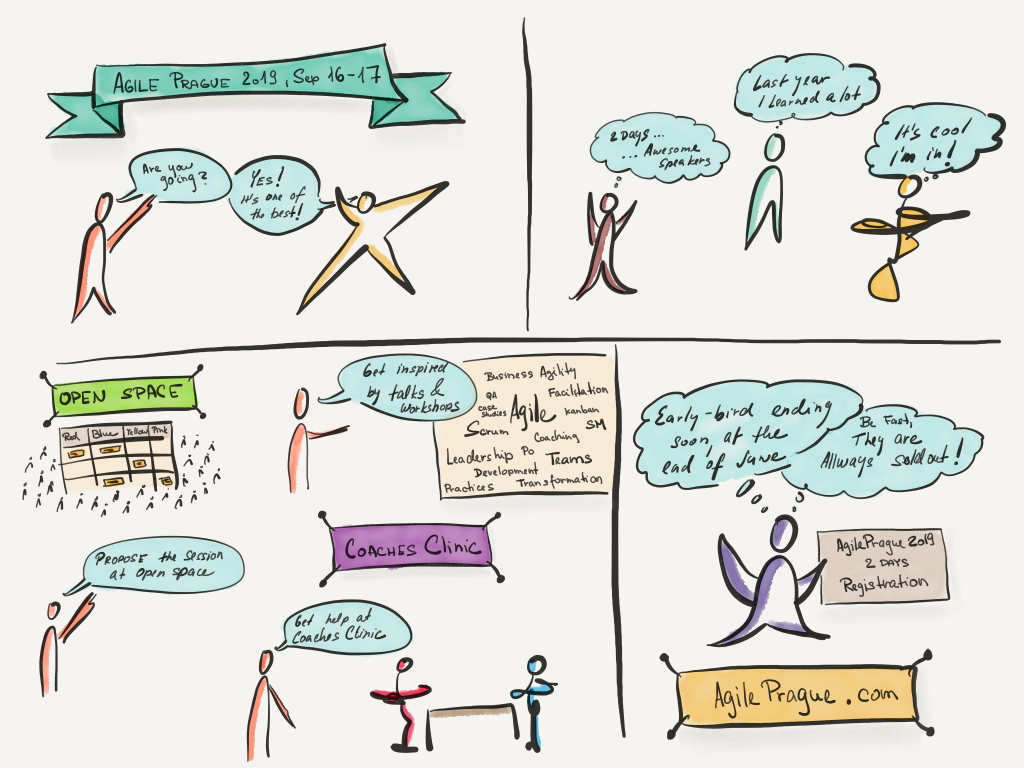 #2: Agile Journey Focus
The theme of this year is the Agile Journey. Agile is more than an IT process. We are going to talk about Agile transformations, leadership, scaling, the new ways of running your products and businesses, collaborative culture and great teams. See the program.
#3: Coaches Clinic
You can discuss any area you are interested in and get free help from experienced coaches at our Coaches Clinic. It is a unique and free service designed to help you with specific challenges you've encountered on your way to a more Agile way of working. The Coaches Clinic is prepared and organized by Certified Agile Coaches – Certified Team Coaches (CTC), Certified Enterprise Coaches (CEC), Certified Scrum Trainers (CST) and other experienced Agile coaches.
#4: Open Space
AgilePrague Conference is not just about listening. We want you to participate and come up with your own session. Every mid-day there is an open space where you have an opportunity to share ideas, discuss topics with each other and join a deep dive conversation with our speakers. Open space is an opportunity to create your own program and bring your own topics to the conference. 
#5: Visit Prague
Prague is an awesome city, so why not combine the sightseeing & conference? Have a beer, wander through old town & narrow streets, enjoy one of the greatest historical cities 🙂 
Looking forward to seeing you on Sep 16-17, 2019 at AgilePrague Conference!