The world dimension of #ScrumMasterWay concept represents three levels ScrumMasters shall operate. The third element is called Entire System. Though the time and energy ScrumMasters spend on each level differ based on the team or organizational culture and maturity level, they have to be present at every level to keep an eye on changes. As organizations are complex systems, you can stay here forever. There is always some change which needs your attention, there is always a better way how we can do things, there is always a better way of work.
Level 3: Entire System
At this level, ScrumMasters shall look at the organization as a system, from ten thousand feet distance. Searching for organizational improvements. They shall become servant leaders, helping others to become leaders, grow communities, and heal relationships. Bring the Agile values to the organizational level. Address the system in its whole complexity and make it a self-organized network of great teams. At this stage, you can see your organization as a living organism. This living organism has one goal of which no one has doubts. This system takes experiments and learns from failures. The safety, transparency, and trust are deep in the system DNA. The culture value collaboration and trust which gives us an opportunity to come up with more innovative and creative ideas then hierarchical traditional structures.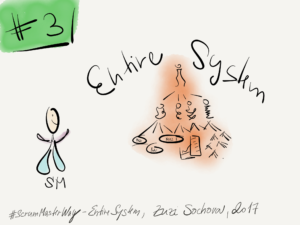 You might feel you are done, you made it. Please celebrate, it's a huge achievement. And then let me remind you, there is no end of your journey. The goal is to achieve the right mindset of inspect and adapt every day. Being Agile is the star on the horizon, you can never touch it, but in short iterations, you can get closer. That's what Agile is all about.
If you are struggling about how to create such Agile organization and how to work at this Entire System level of #ScrumMasterWay concept, join my Certified Agile Leadership class (CAL) which we now offer as the only ones in the Czech Republic and Slovakia.