One of my biggest passions in the agile space is developing great ScrumMasters and helping them to become successful in their role. I become ScrumMaster in 2005 and I didn't know much about either Agile or Scrum. I did all the mistakes you can ever imagine. I didn't know anything about coaching or facilitation. Instead of acting as a leader, I was more like a team mom. Later, when I realized the whole potential of the role, and become the real ScrumMaster I decided I need to give back to the community and I dedicated quite a lot of effort trying to explain to individuals and organizations what is ScrumMaster really about and why is having great ScrumMaster related to the success of the agile journey. But no matter how long is this all Agile and Scrum around, despite the effort, there are still companies who are hiring ScrumMasters who cannot be successful. So let's have a look at the most common misunderstandings.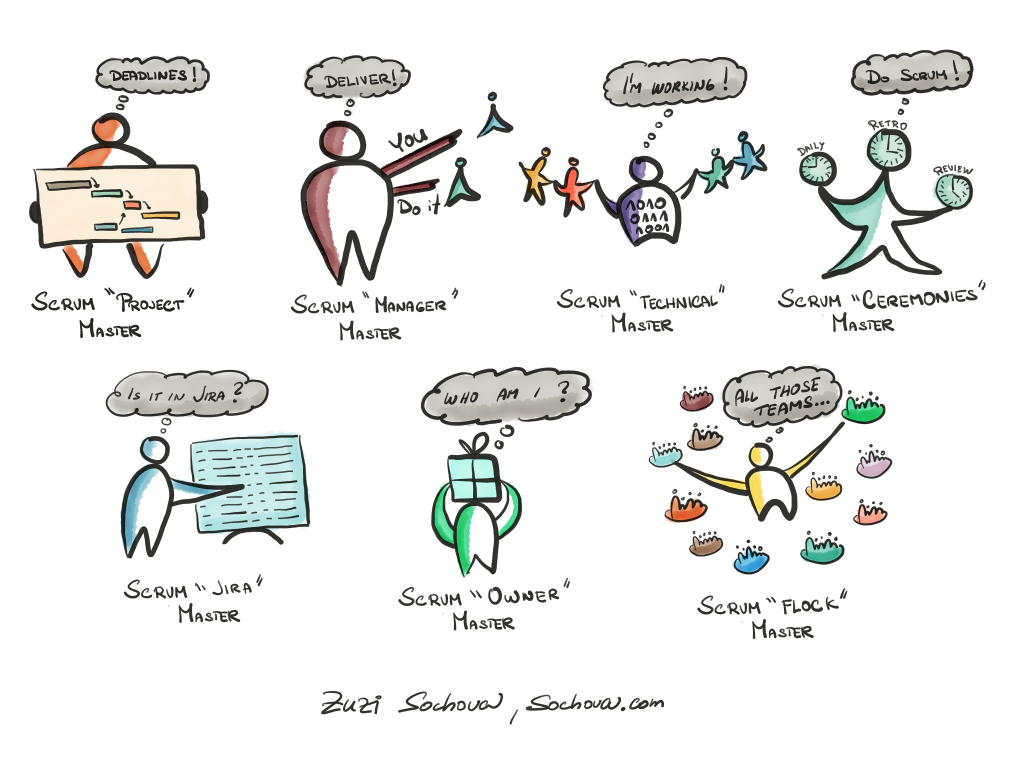 Scrum "Project" Master
Deadlines are important. So let's tweak the role a bit and hire a combined role of "Project Manager/ScrumMaster", "Agile Project Manager" or "Agile Delivery Manager". They are experienced in planning and making sure we keep up to speed and follow the plan. They usually manage the Sprint Backlog and often micromanage individuals.
Scrum "Manager" Master
We have to be efficient. We need to deliver more functionality faster. Speed is the key to the success. So let's have the "Scrum Manager" to help people organize. Someone needs to allocate tasks and measure that they are working and not pretending or hiding behind the Scrum process. Someone also needs to check the progress at Daily Scrum. Someone has to make sure there are results. Such environments often take velocity as a key metric and ask Scrum "Manager" Master to create Burndown charts and other reports.
Scrum "Technical" Master
Many organizations are missing traditional Team Leaders. A senior technical person who will guide the rest of the team members, distribute their tasks, helping the Product Owner with the estimates. Decide on the Sprint commitment. So here we are Let's hire an expert – Scrum "Technical" Master.
Scrum "Ceremonies" Master
This is my 'favorite'. We have a Scrum Master to make sure the ceremonies are happening. It's not a valued position as it downgrades into a team assistant who needs to schedule and manage meetings. Therefore it's not much popular and most organizations would combine it with a developer/tester/business analyst role. In some cases, it turns to "Scrum Police" as the only explanation they are able to come up with is that 'Scrum defines it this way, follow the rules'.
Scrum "Jira" Master
This is very typical nowadays. ScrumMaster needs to know Jira, update it on regular basis, and generate reports. Such ScrumMasters are often micromanaging individuals, adding complexity through difficult workflow and complicated processes. They are focusing on various different estimates, at the story level using story points which they often link to man days and hours at the task level which are being re-estimated every day to be accurate.
Scrum "Owner" Master
It's a waste of our time to have two people when in the traditional world we only had one project manager. ScrumMaster can act as a Product Owner at the same time. In their mind, ScrumMaster is some sort of process assistant for 10-15% anyway so why not. Such a person usually doesn't have enough business knowledge and ends up being a requirements seeker, not looking for value, and not deciding on priorities. They take a backlog as a to-do list where everything needs to be done.
Scrum "Flock" Master
Finally, some organizations have one ScrumMaster for many teams. No matter how experienced are they, they usually burn down. They don't have enough time to focus on all teams, so they end up being everywhere and nowhere, and therefore their impact is very limited.
Maybe you find yourself in multiple dysfunctions at the same time. That often happens. But no matter how different they are, they all share one common outcome. They don't work and you end up with "fake Scrum" or even "Dark Scrum" and no ScrumMaster.
So what's the real ScrumMaster role about? For the beginning, you can start with the assessment below. Take it as just a start. There is more to be a great ScrumMaster, but if you have the following top 10 points right, you are at a great place already.
My primary measure of success is team self-management
My team is continuously improving their way of working
There are no roles in the team
The team is cross-functional and able to deliver end-to-end value
We measure value, not an effort
I can coach and facilitate conversations and collaboration
I'm not responsible for a delivery
I'm able to work at all three levels of the #ScrumMasterWay concept (My Team, Relationships, and Entire System)
I'm a leader, helping others to grow and supporting organizations on their agile journey
I love Agile and Scrum, and I'm an active part of the Agile community
If you are interested about a real ScrumMaster, check out my book The Great ScrumMaster: #ScrumMasterWay.