Recently I received a nice magazine in my mailbox, the Journal of Business Agility – Emergence. If you are looking for stories from different organizations, inspiration from agile leaders, I would recommend you to subscribe to it. Businesses Agility Institute is known for high-quality content conferences, and the Emergence magazine is a good example of very good curated content. So what caught my attention from this first issue of the magazine?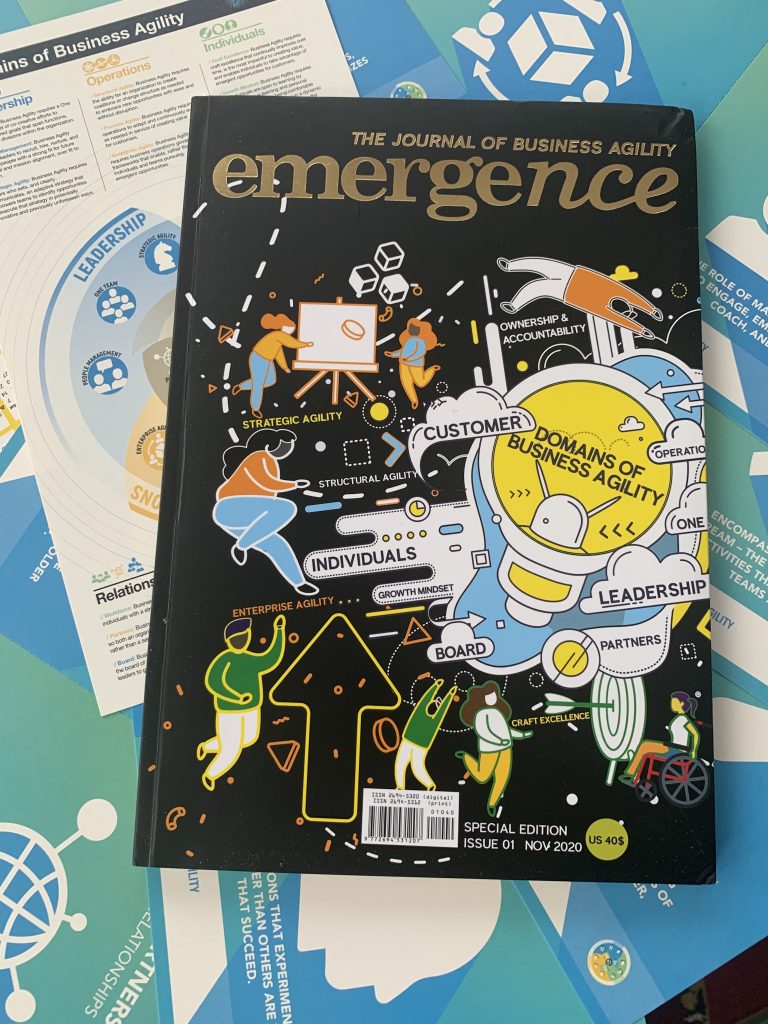 Budget planning: Prioritization – Capacity – Funding
I start with the first article where Jardena London shares her insights about Budget planning. It's so much close to what I experienced as a Director running a software organization. "Stop talking about budget and capacity until you prioritize the outcomes you want across the organization. Even the high-level strategic goals need to be put in order." So many organizations are unable to focus and try to push more things without a conversation about priorities. Once ordering is done "Start by planning capacity by teams, it's way easier than planning for individuals. You may find that your current team structure no longer serves the needs of your portfolio, so you'll have to tweak it, maybe add/ remove team." On my journey, I learned that working with teams is so much easier than trying to plan everything with individuals. From the organizational perspective, working with individuals is too detailed and all different irregularities made it too fuzzy and unpredictable. I can also relate to this note: "Don't plan out the year, plan the now." In the current VUCA world, the yearly planning cycles feels outdated and unrealistic. I still remember when we went away from estimations and how enlightening it was. However, when I speak about it now, many people are almost freaking out. How can you plan your capacity without it, they ask. "When we estimate hours, we miss all kinds of variables like task switching cost, administrative time, and buffer time. We spend energy trying to get more precision in the output than we have accuracy for in the input." Instead, in an agile environment, we focus on forecasting how much teams can produce in a short iteration. "With the same number of people, capacity can change over time. Improvements to capability and technology can impact capacity. Capacity is great for forecasting and planning." But it's still a concept very hard to accept not only by finance departments but also by the teams. Finally, "Once you have prioritized and planned capacity, and you're ready to go, allocate funding. This is the very last thing we do, allowing money to be free and flexible as long as possible." Agile is about flexibility and the ability to be change responsive. "Decoupling prioritization, capacity and funding can breathe new life into budget planning, alleviating the difficulty for employees and improving outcomes for the organization."
Fact Sheet: The State of Business Agility in 2020
For those who like facts, numbers, and charts, there is a summary of the State of Business Agility report. "In 2020 we saw a significant increase in business agility globally. Compared to last year, we have seen more organizations commencing their business agility journey, and those on the journey report greater progress." It's no surprise for me, as I'm getting the same message from organizations, but it's still good to have it confirmed with data. And it's also no surprise that "Leadership continues to be the common theme amongst all transformational challenges." I can see that in most of the organizations. Boards and executives are struggling with a core understanding of agility beyond practices, processes, and frameworks. Their experience with business agility is still very limited. The good news is, that there are many inspirational stories and use-cases covering every spectrum of organizational function, but still looking for an agile organization is a tough job. When I was writing my new book The Agile Leader: Leveraging the Power of Influence I was bringing in some of those pioneers to share their insights in a short story. We need more stories about the successful agile. We need more insights from their journeys. That's the only way how to make business agility more accessible for leaders and organizations. If you are looking for three tips where to start, the report brings you three tips: "Organizations who reported higher ratings in these three characteristics also report higher overall business agility and associated benefits: 1. Encouraging a culture of learning and experimentation, 2. funding business outcomes rather than specific work outputs or projects, and 3. aligning work to customer-centric value streams." Very true. Experiment, learn from feedback and deliver value. Looks very simple, but it's unfortunately very hard to do in some organizations.
The agile journey of Scrum Alliance
I was watching the Scrum Alliance journey for several years, and I'm very proud of how they changed and the experiments they were courageous to take. Living the Scrum values is never simple, and being agile is a journey. "The Scrum Alliance revolution – beginning with reflection, continuing through a complete rebuild of the organization's working methods, and ending in a revitalization of public perception." That's easy to be said, but hard to be done. "Before the self-organization process, Scrum Alliance had multiple departments with multiple part-time scrum teams. Afterward, the structure had been simplified to six cross-functional and cross-departmental scrum teams." Once the change was implemented as a trainer I could see immediate value to be created every sprint. How interesting change from all the years before, where value delivery was much slower. "By changing the internal structures of Scrum Alliance, Melissa and Howard had also changed attitudes, operational standards, and revitalized the ethos of the entire organization." It's great to read about successes but equally important is to read about things that didn't go so smoothly. Being agile is a journey and this article is showing the journey with all the transparency and honesty. "Most importantly, Melissa and Howard have built an organization that strives every day to practice what it preaches and embody the values and principles of Business Agility" and that's something you don't see every day.
And there is more…
Stories from leaders, experiences shared by practitioners. That's all that we currently need on our agile journey as a society. Agile is not anymore a different project management method. For long ago it left the basement where the IT department was closed. It's changing the way how organizations operate, and how they do their business. The topics of Agile Organization, Agile Leadership, Agile HR, Agile Finance, and Business Agility are everywhere. There are schools applying agile values and principles, there are governments changing their way of working. Agile is everywhere. The new generation is different, they don't want to be told what to do, they are asking for higher flexibility and autonomy, they require freedom to choose from where they are going to work and how they deliver the value. Some organizations already figured it out and started accommodating the change. Others are picking up. "The intention of business agility is to create an organization best able to serve its customer, no matter what the future brings." That last part – no matter what the future brings – is in my mind the most important. Imagine an organization that is flexible and fast responsive, so it is ready for any situation. What else could you wish for succeeding in the VUCA world, right?
Subscribe for Emergence Journal and get a 10% discount using "agileprague" promo code.