Agile become part of our lives and you can see some sort of "Agile" in every other company, but still, many companies are failing to be Agile and understand the mindset. Ron Jeffries talks about "Dark Scrum" for years and I see more and more frustrated people around than ever. So why are the companies failing?
The most appealing way how to fail is to copy someone. When it worked somewhere else, why shall we take a hard time trying to invent it ourselves when we can just apply it. It usually starts with a big push from the top and has often wrong expectation from such a change. Being Agile is going to be hard, you might not see the results right away, and renaming a few roles and departments would not be enough.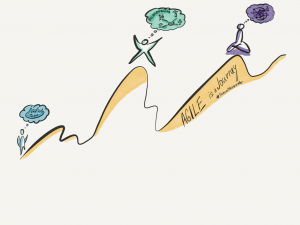 Instead, you need to start from the bottom, get the experience from the teams, learn on the way through your own failures, do experiments, have the courage to do things differently. At some time, when you got used to this way of working at the team level and can imagine what needs to change in the business, systems architecture, culture, and organizational design, you might need to get ready to the next step – scaling.
Which to tell you the truth shall be called 'descaling' instead as in order to work, you need to turn the organization around and build it around the cross-functional teams who can actually deliver value end to end. Be business value driven, customer-centric. Hold on, yes, you need to understand what the business value actually is and think about the organizational purpose which is matching that value at the same time. Why are you here as an organization, and what would happen if you disappear from the market tomorrow? Would someone miss you? Are your employees living that purpose?
Having the evolutionary purpose is an enabler for Agile culture to finally settle down and stick. Only then, when you have a higher purpose, you can talk about truly being Agile and forming the Agile organization. How many ideal organizations I've seen? None. How many companies I've seen, being on this Agile journey? Hopefully enough to demonstrate that we can make it. Give us the light at the end of the tunnel that we can actually turn the organization around and make it a better place to be. Make work fun again. It's not about being ideal, Agile is about inspecting and adapting, learning from experiments, learning from failures. So instead of looking for some ideal organizations to copy, how about if we start with ourselves, get the courage to do things differently. Be brave. Be Agile.