Agile can't stay just at the team level. Agile transformation only creates disturbance and gap between the management and employees. And the more Agile the teams are, the bigger the disconnect is. Managers feel lost, forgotten and start to be frustrated that those self-organizing teams might eventually not need them. Part of the problem is they've never been part of any Agile or Scrum team themselves.  They've seen them working, joining them for Reviews and listening to their stories, but that's not the same. People need experience to understand a different way of work. You might still remember your first feeling, when someone told you that this Agile and Scrum will be great. "What?" you thought, this stupid process will never work – what if… At least I still remember how I felt several years back.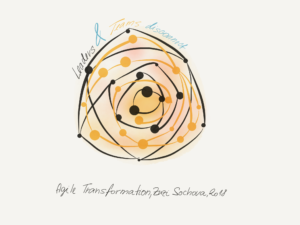 One important thing companies often forgot during their Agile transformation is how to get management on board. Managers deeply need their own experience with Agile and Scrum. They can't just read about it. Otherwise you continue hear such funny remarks like "I got it, you are a team, you collaborate, but who is responsible?", "We don't need ScrumMasters, some developer can take it as a second role" or "We don't need Product Owner, we have a product committee". If you really mean the Agile transformation seriously, it's time to change the way you implement it. It's not just a different process decided by C-level executives and implemented without them noticing. It's a significant change of the culture and mindset. So why don't we start from the other side, forming the first team from executives. Let them experience Agile and Scrum. Make them feel the pain of being the group of individuals with their own goals, no common passion, no trust. Or no unifying purpose. Let them experience what the self-organization is about, how the cross-functionality works. Let them do their refinement, planning, standups, reviews, and retrospectives. It's always fun. And the same way as such first pilot is painful and difficult for a product development team, it is even more painful for the executives. They would hate it. If they can, they would kick you out of the door. So be ready for that and have strong enough sponsor who understands that such painful experience is critical for the organizational success. It's like any other exercise. Starting is difficult. We all are great at finding excuses why running today is just not a good idea. I will run tomorrow. Or when it's the right weather. Actually, I don't think I need to run, I'm just good without it. The other people need that, not me. Familiar? If you force yourself to start and develop a habit, it is fun and you would miss it if you skip that for even a day. The same with Scrum, the first time you experience the power of the true team spirit you never want to be back. No matter where you are in the company orgchart. It works the same way.
Unfortunately, executives are rarely going that way. There are two reasons. First, it is a painful journey. That's why I'm not running every day. It's not that bad that I would have to, right. The company is still fine. Not struggling enough. But maybe when that happens it's too late to change. Second, most of the Agile Coaches need a day job. They care about 6+ months contracts. They are afraid of losing it if they would push too much. They often forgot that their job is not to please the customer, but to change them. Guide them through that painful experience with all the risks that they will not like it, and stop. Very often you hear from them "I know that this is not the way how it shall be but this is a corporation, you have to do it differently" so they still have PMOs, no Product Owners, weak ScrumMasters and not real teams either. It's a much more painful experience for everyone involved then starting this fake transformation repeatedly all over again and again.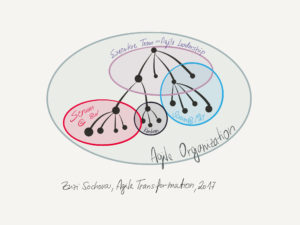 If you mean it, get a real Agile coach. Not a consultant. Find someone who would guide you how to do it. Not do it instead of you. Who would be with you once per Sprint / month / quarter. Do their intervention, show you the way where to focus next and let you exercise. Start with smaller pilots. The first Agile bubbles. The more bubbles you make, the better. Aim for our own experience and learning. Inspect and adapt. Don't forget that your executive team forms one of the first bubbles. They have to learn in the first wave. If you do it that way, Agile mindset will grow organically and very soon you would be ready to share your own Agile success story and inspire the others.