The more the Agile Leadership is popular, people are asking for more description. Who is the Agile Leader, what makes him different from a traditional manager, and which competences and skills they have to have. So I created this Agile Leader Wheel so you can map the competences and skills.
Great Agile Leaders have four core competences in which they can create vision, enhance motivation, get feedback, and implement change. Vision is the driving engine. It's not necessarily related to the product and business but the organization itself. The second segment is motivation. Agile Leaders understand the nature of motivation, are familiar with the power of intrinsic motivation of autonomy and purpose. The third one from the top section of Agile Leader Wheel is feedback. For Agile Organizations feedback is crucial, it makes the team and product feedback part of their DNA, it becomes integral part of their culture. The same for Agile Leaders, the regular feedback from the system is the key to their success. The last piece is ability to implement change. For Agile Leaders the change is happening at three levels. Firstly there is change of myself, my own beliefs, reactions, the way I work. Secondly there is the ability to influence others. Make them part of my team, get supports who will help me to lead the change. Finally the third element of change is change at the system level, the whole organization level.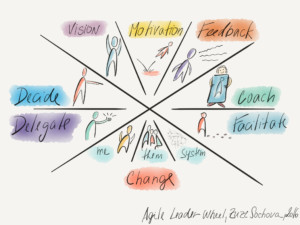 In addition to the mentioned competences, Agile leaders will need to balance the time when they need to take a decision and when it's better to delegate and empower others to take decision and responsibility for that. Finally on the right side Agile Leaders are facilitators and coaches. We are not speaking here about one-one coaching. Great Agile Leaders use coaching as a spice to address the complexity at the system level, and coach organization as whole. Great Agile Leaders are not born this way but constantly develop those competences and skills. This concept is part of my Agile Leadership program where I help leaders to understand complexity of nowadays organizations and be successful in their roles. Looking forward to see you at some of my Agile Leadership workshops.