In my previous post, I was writing about the need for awareness of what is happening in the organization. Looking deeper into the culture, safety is a prerequisite of collaborative environments. Without it fear of failure will take over and people stop experimenting and try new things and start hiding behind roles, rules, and processes. The level of psychological safety correlates with team performance – people need to have trust that they won't be punished when they make a mistake. One of the famous studies done by Google in 2012 on teamwork and team performance –  Project Aristotle – identified that psychological safety is the most important for a team's success. Creating safety is key for motivation and if your environment is not safe enough, no agile can be successful there. Agile and Scrum teams address the safety issue by operating in very short iterations. Even if the entire iteration fails, it's so short, that it won't create any huge problem. We can still learn and improve. At the end of each iteration, there is a time to reflect, inspect, and adapt via regular retrospectives. It's not about being perfect and never fail. But in agile space, we take failure as a good thing – an opportunity to learn.
It's interesting how some organizations are almost freaking out when they hear about learning through experimenting. I guess they imagine the experiment as something big, like the whole product. No surprise they are afraid to fail the entire thing. But experiments in agile are small and tiny steps. In the nowadays world, there is no clear solution exists. Problems we are mostly facing can't be analyzed, planned, and delivered according to that plan anymore. The plans are failing. For that, most of our problems are too volatile, uncertain, complex, and ambiguous. In the VUCA world, we can't just say what needs to be done because we don't know how to solve it yet. However, what we can do is an experiment, try different options, and learn from feedback. The three pillars of empiricism are transparency, inspection, and adaptation. And empirical process core for an agile environment.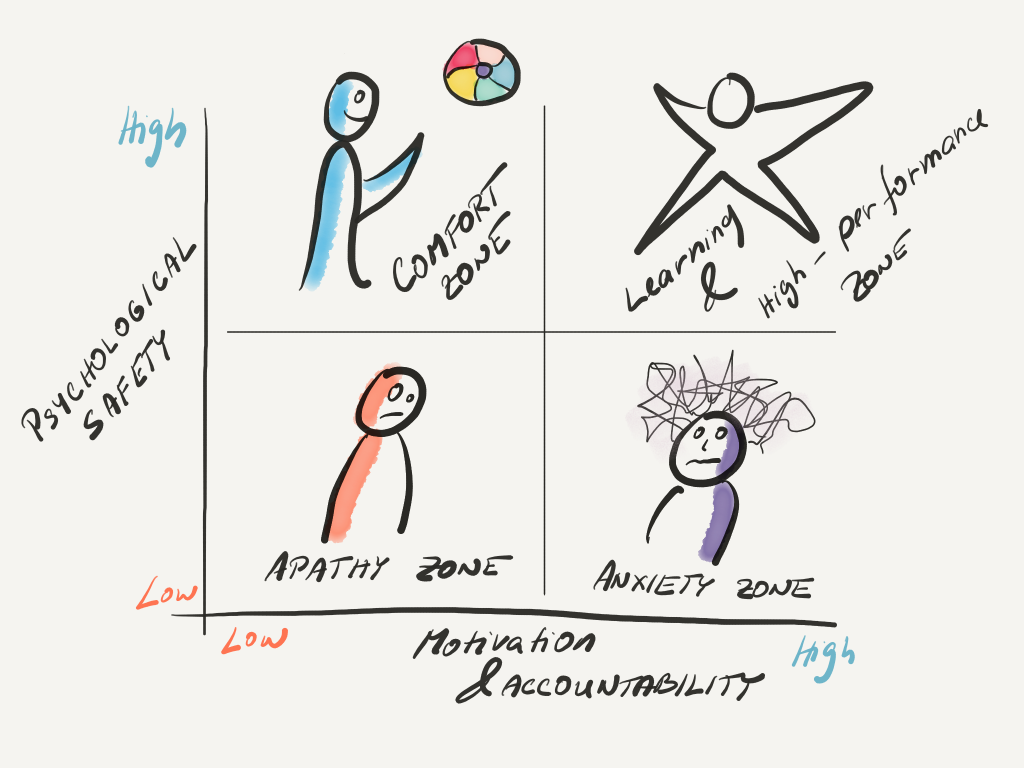 The other interesting shift we are facing in agile organizations is about motivation. Traditionally organizations focused on extrinsic motivation factors where a reward is used as a motivator for specific activities. Already from school, we are stimulating the fixed mindset where people believe their basic qualities, like their intelligence or talent, are given and talent creates success without effort. On the other hand, in agile organizations, we rather focus on intrinsic motivation, where we believe that people do the work because it's internally rewarding. It's fun and satisfying. In agile environments, we stimulate the growth mindset where people believe that one can always improve, or exceed their natural talents. Now let's pause a minute here. How do you motivate people? What is your organization doing? Is it more extrinsic motivation (money, bonuses, gifts, …) or intrinsic factors (purpose, autonomy, environment, …) ? Do we believe they are creative and smart and can learn what is needed from them? Or do we approach them more as machines?
All we need to do is to create a good learning environment, help people to be confident, and deliver continuous feedback. And here is the role of leadership and specifically HR in an organization. Agile HR is here to help create such an environment that is safe to fail, rewards learning, and builds a growth mindset. It seems to be simple, but in reality, it's often where organizations are failing.
To assess your environment, you can ask a few questions:
Are goals clear to everyone?
Do you believe that the work you are doing matters?
Do you expect team members to take accountability?
Can you trust team members to do their best?
How comfortable do you feel taking risks on the team?
How comfortable do you feel depending on your teammates?
Remember, the level of psychological safety correlates with team performance, so it's a good place where to start your business agility journey.